Easystar 4K series is a new series that supports Easystar and 4K definition . 4K high definition provides better image quality and more details. In the meantime, Easystar is guaranteed to provide colorful images in low-light environments. It can effectively satisfy customers who have requirements for Easystar and high definition.
4K Ultra High Definition
Easystar 4K series products support 4K ultra high definition. With high definition, we can see more details of the image, such as color of cars, plate number, etc. Whether it is watching surveillance videos in real time or retrieval of videos, it can provide more image details and demonstrate more information.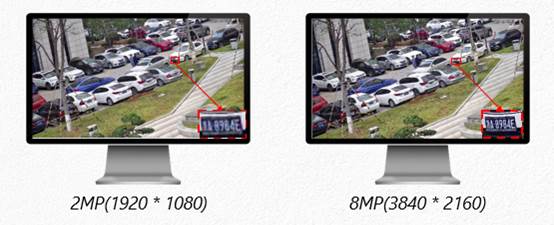 Easystar, entry-level choice for night vision
Easystar IP cameras adopt the backside-illuminated CMOS Sensor, which greatly improves light utilization. F1.6 iris design improves light gathering capability. The minimum illumination is down to 0.005Lux. Most importantly, UNV's uniquely patented technology U-ISP improves the definition and brightness of images. With a perfect combination of hardware and software, Easystar IP cameras deliver high-quality colorful images at low illumination.

Reliable performance
The IP cameras of the Easystar series are also excellent in other environmental conditions. The entire series of products support IP67 waterproof and dustproof level, which can meet the needs of outdoor environments. They all support long IR distance, combined with lowlight technology to deliver high-quality images around the clock.
Application scenarios
The UNV Easystar 4K series can be applied in schools, plazas, shopping malls, hotels, hospitals or any low-illumination scenes indoors and/ or outdoors. Easystar products with 4K high definition are suitible for some scenes that require high definition cameras like parking lots, stations, etc.
These advantages make the UNV Easystar 4K series stand out, providing customers with more choices in low-light application scenarios.