Color and details are always lost at night which is a common pain point in traditional cameras. In response of these issues, Uniview, a pioneer and leader of IP video surveillance, has released its ColorHunter series. Based on the 5MP ColorHunter camera, Uniview has launched 4MP ColorHunter camera that offer better ColorHunter performance.
24/7 colorful monitoring powered by technology innovation
Based on three advancements in hardware: super large F1.0 aperture, progressive 1/1.8"BSI sensor and friendly lighting LEDs, ColorHunter camera can capture colorful details in monitored scene in low-light environment all day.

Progressive 1/1.8"BSI Sensor
The 4MP ColorHunter camera adopts 1/1.8"BSI Sensor. Compared with traditional camera, the sensor increased 50% in size, which leads to maximized light admission from the lens as well as heightened light sensitivity.
Super F1.0 large aperture
The ColorHunter camera is equipped with large F1.0 aperture that collects 4 times light compared with F2.0 aperture, allowing it to catch more lights to improve the brightness of the image even in low-light environments.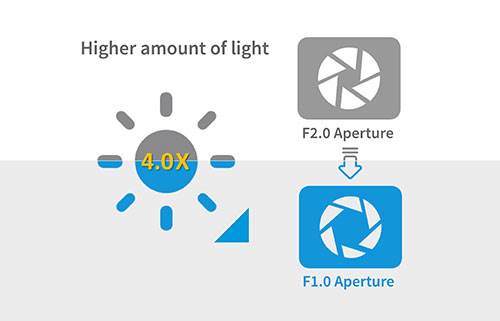 Friendly lighting LEDs
ColorHunter Camera ensures the colorful and high quality image. At the same time, it adopts warm light LEDs to reduce light pollution. What's more, the light from warm light LEDs can also effectively prevent criminals in darkness.
Filters false alarm in the darkness
In video security, the users focus on the real events that triggered by human and vehicles instead of irrelevant moving objects. UNV Smart Intrusion Prevention (SIP) focuses on human and vehicle in order to filter false alarms like dogs, leaves etc. to improve the accuracy significantly.
Sometimes, the accuracy of SIP will be affected by image quality. The target in the image at night is too dark to trigger alarm. However, ColorHunter camera can provide colorful image even in low-light environments. In this way, it can achieve the effect of guarding in the dark.
Application scenarios
Overall, UNV ColorHunter camera can be used in the ultra-low light environment to deliver colorful images. Combined with the Smart Intrusion Prevention (SIP), it can serve as a guard even at night. ColorHunter camera can accommodate a wide range of application scenarios, such as residential, parking lots, parks and alley.